mehrauli was one of the first cities that flourished in the region of delhi. It was from here that the tomars, chauhans and later the delhi sultans established their rule. the strategic geo-location of mehrauli, on a ridge, provided much needed security, efficient water supply and good drainage due to the sloping landform. the entire area has a substantial count of sufi shrines, historic houses, sarais and secular buildings, still surviving.
there exist different theories explaining as to why the area was called 'mehrauli'. one such theory is that it was originally 'mihirwali' named after the king of gujarat pratihara dynasty, raja mihir bhoja (836-885 C.E.). others are of the opinion that it is called mehrauli because of the 'meher' or blessings of the saint khwaja qutubuddin bakhtiyar qaki whose dargah is located in this region.
mehrauli, in reality, is the actual 'old delhi' or 'purani dilli' and not shahjahanabad which is a popular conceived notion. It also has 'lal kot' literally meaning the red fort. What we today know as red fort located in shahjahanabad was originally called 'qila –e-mubarak' or the 'Auspicious Fort'.
references:
1. safvi, rana. "where stones speak: historical trails in mehrauli, the first city of delhi". harper collins. 2015. Pg. no. 21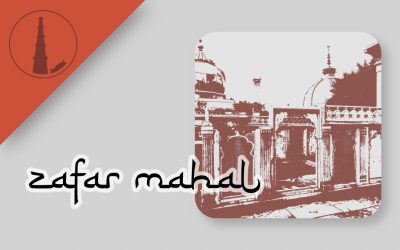 Umr-e-daraaz mang ke layi thi chaar din Do aarzu mein kat gayi do intezaar mein- Seemab Akbarbadi, Kitna hai bad-nasib 'Zafar' dafn ke liye Do gaz zamin bhi na mil ku-e-yar mein- Bahadur Shah Zafar Narrative The first two lines written by Seemab Akbarbadi however, are...
read more